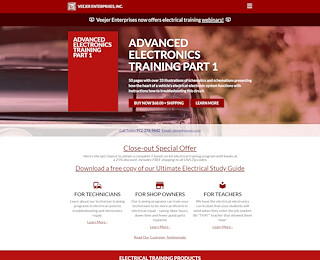 The automobile sector is in a continuous renovation. Technological advances mean that year after year you can enjoy cars that provide higher performance and comfort. A great novelty in the manufacture of vehicles was the incursion of electronics. The vehicle's electrical system is vital for its correct operation. Critical issues such as the engine, its management, brake management or stability depend on it.
However, the world of electrical technicians who attend these new cars does not advance at the same speed. On the one hand, the advances, especially in electrical and electronic systems, are enormous. Besides, other issues such as ecological & electrical systems must now be taken into account. But the most severe problem is that technicians do not have adequate electrical training.
For technicians to be able to serve their customers efficiently, proper instruction is vital. If you provide technician electrical training, it is essential that you know the critical aspects so that you become a frontline instructor for your students or employees.
Objective
First, you must define what you want to achieve in your students. Once you have determined this, you must acquire the necessary knowledge to meet it. When you investigate, don't concentrate on the central subject. It is wise to research related topics that will support you during the training.
Focus
Another relevant aspect is whether you are going to take a theoretical or practical approach to give your training. In the case of automotive electrical training, it is best to impart practical knowledge that teaches the technician over-the-car about the faults and correct diagnoses to achieve proper maintenance or repair of vehicles.
For example, we at Vejeer Enterprises, through our book "Vehicle Electrical Troubleshooting SHORTCUTS", provide instructors with the necessary material to enable the students to detect and attend to most of the faults that may occur, from the most basic to the most complex, using only a DMM and a Current Clamp.
Empathy
Studies carried out at the University of Eastern Finland, the University of Jyväskylä and the University of Turku, all in Finland, have shown that an empathic instructor allows better learning of his pupils. When you carry out your technician electrical training, make sure that you can put yourself on the feet of your students. This will not only allow for better and more learning but will help to keep them motivated and happy.
Support Material
There are visual individuals, other additives and other kinesthetic. When you give your workouts, make sure you have enough material to support you and allow you to maximize group learning. If, for example, you decide to use one of the excellent materials provided by Veejer Enterprises, such as Shortcuts or our "First Things First" series, you won't be alone. You can also purchase our great PowerPoint slides to support your instruction.
Feedback
Finally, it is essential that at all times you know how things are going. Provide strategies during the class that allows you to continuously evaluate two things: how much your technicians are learning, and how you are performing as an instructor. This way you can make the necessary corrections as you go along and ensure top-quality training.
Are You Ready to Provide the Best Technician Electrical Training?
If you want to become the best instructor in automotive electrical & electronic, Vejeer Enterprises is your best ally. Let us support you with the best educational materials in the industry so that you can train your technicians successfully. Contact us.
Technician Electrical Training
Veejer Enterprises
9722769642
3701 Lariat Ln, Garland, TX 75042
View Larger Map